Our guest post today comes from my college roommate and best bud, Melody. We became fast friends - spending many hours laughing, shopping, crafting, studying, praying, trying to do you-tube aerobics, organizing, decorating and movie watching together. We shared the same major, many of the same classes, and most of the same tastes in fashion, food and decorating.
We were "those friends" who could finish each others sentences, and she helped celebrate my wedding day by being one of my bridesmaids.
Lydia, Amy, Me, Ashlee, Melody
Her family lived in the area - I always loved the yummy meals that came from her house. When we get together, we usually end up cooking something together or enjoying some type of yummy recipe. She is currently serving the Lord as a teacher in the Dominican Republic. Here's a few of her "Pin-Did"s!
I always have good intentions, especially when it comes to Pinterest. I dream big and I own an amazingly decorated home….in my mind. I love being crafty, but sometimes time and money seem to escape so quickly. However, one of my newest passions is cooking. I've always been interested in health and nutrition and love to find good recipes that are good for my wellness as well as my wallet. Pinterest just happens to provide a never-ending wealth of information. Here are some of the recipes that I found and have really enjoyed. I like to make things that are simple and I look for recipes with ingredients that I would probably already have on hand.
One of my favorites was a simple banana smoothie that was out of this world! It was like eating soft serve ice cream for breakfast and only took minutes to make. Being a teacher sends me out the door early and in a hurry and I'm not looking for a fussy breakfast. It has no name, but contains bananas, oatmeal, peanut butter and milk. (I used Smucker's Natural Peanut Butter for a healthier option.) Although I normally like a hearty breakfast so that my energy will last until lunch, I was pleasantly surprised at how this protein-packed smoothie kept me satisfied and full of energy until the lunch bell!
I'm constantly looking for creative ways to cook my vegetables, and since I don't have an oven, Zucchini Fritters caught my eye as I was perusing through a friend's Pinterest board. I did not make the Greek Cucumber dressing to go along with it, but I was just as satisfied with the taste that I achieved. Crispy and juicy, it was a fun twist on a traditional salad item.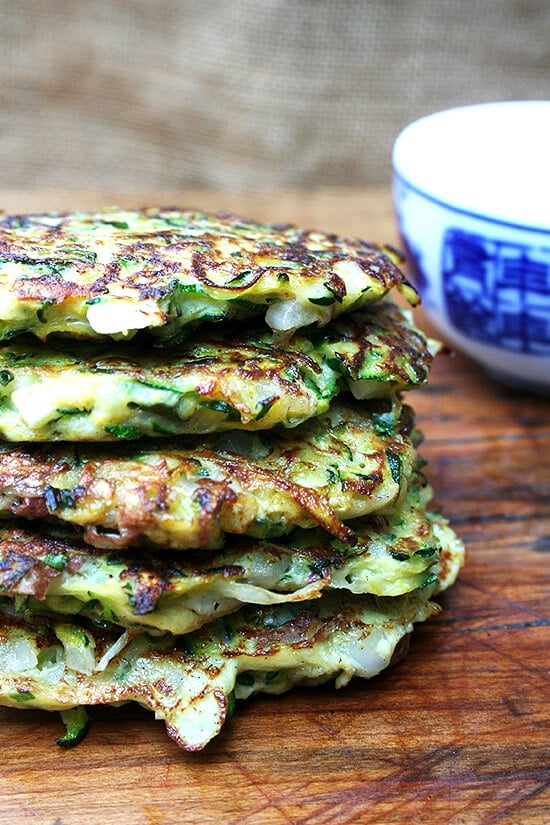 Another favorite recipe was Honey Garlic Chicken. Not a very original name, but it was packed with flavor and so simple. I did not have a crock pot, but improvised and tweaked the recipe a little so it would be compatible for a skillet. It was excellent served over rice and for the side, sautéed green beans with olive oil and fresh garlic was just what it needed. This was a recipe that was "marked" in my memory as one that will definitely be a repeat.
So although the crafts, print-outs, wreaths and projects may have to wait awhile, I can enjoy using my creativity in the kitchen and still have the satisfaction of completing another pin on my board!